At this point, the reason why young Americans religiously shop at Forever 21 is almost common knowledge: it makes it possible for people with low incomes, such as college students, to participate in high-fashion trends at dirt cheap prices. This contemporary habit of buying into "fast fashion" may seem harmless enough, yet it comes at a price.
Beyond the sweatshops discussed in this article, there are other times when Forever 21 is so unnecessarily corrupt that it seems to almost be for the heck of it. Chalk it up to the nature of bad business. Here are 10 reasons why we should think twice about shopping at Forever 21.
The Bad Labor Stuff
One. In 2012, five former minimum-wage high school employees filed a class-action lawsuit claiming that the company failed to pay them for hours worked, forcing them to work off the clock and refusing lunch breaks.
Two. According to the International Labor Rights Forum, Forever 21 did not join retailers like Gap Inc., Levi Strauss & Co., American Eagle Outfitters, and many other companies in deciding not to buy cotton from labor abusing Uzbekistan factories.
Three. Ever wonder why Forever 21's price tags are so insanely low? A factory worker in Los Angeles says she was paid 12 cents a piece to sew vests that sell for $13.80. (Let's talk minimum wages and math for a sec: how many vests can a person possibly sew in one hour?)
Four. In 2012, the company was sued by the United States Department of Labor for ignoring a subpoena requesting information in regards to how much its suppliers pay East Asia and Latin American immigrant workers. The agency conducted 1,500 investigations; 93 percent of these factories were in violation.
Five. The clothing chain was also sued by the Asian Pacific American Legal Center in 2001, which aided 19 Latino garment workers who said they routinely worked 10 to 12 hours a day for six or seven days a week with no overtime pay.
Six. There's a documentary titled Made in LA about the indecent treatment of Forever 21 workers, which received an Emmy in 2008. These are serious matters, my friends. (Side note: The True Cost is also a documentary worth seeing, available on Netflix.)
The Other Bad Stuff
Seven. The clothing chain has faced more than 50 copyright lawsuits for stealing the work of designers. These designers include Gwen Stefani, Anna Sui, and Trovata.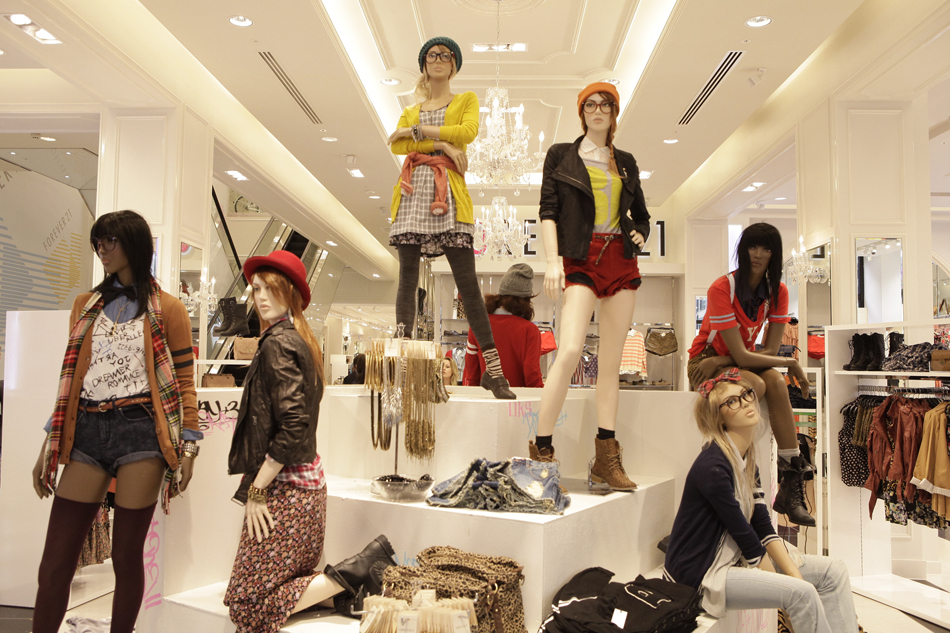 Eight. Writer Rachel Kane started a blog under the domain WTForever21.com voicing her unapologetic opinion on the retailer's clothes. As suspected, Forever 21 has asked her to take the site down or face a lawsuit. (Shouldn't you be worried about your own lawsuits, XXI?)
Nine. In January, Adobe sued the multi-billion dollar company for pirating Photoshop, Acrobat, and Illustrator, even after being contacted by Adobe about the infringement. Companies Autodesk and Corel also joined Adobe in the suit.
Ten. Back in 2011, the company had to cough up $1.03 million after the Center for Environmental Health discovered Forever 21, along with 25 other retailers, were selling jewelry containing the toxic metal cadmium. (If you needed a reason to stop buying cheap jewelry, this is probably a good one.)
When we pick up a $5 shirt from a Forever 21 rack, we don't stop to think about the hands that made it, and the severe working conditions that harm and routinely kill those working hands every day. Perhaps we don't think about it because we don't know. But it's only humane that in knowing this, we view that $10 "Rollin Wit Da Homies" T-shirt a little differently.
Forever 21 doesn't care about the human dignity of its workers, or the designers it's stealing from. It's astonishing how fast fashion businesses like Forever 21 can sell their consumers clothing for next to nothing and still manage to pocket a stifling and ridiculously illegal profit margin.
XXI, a bible verse on the bottom of your bags doesn't give you the rite of passage to be unethical.
A prior version of this article was originally posted on HerCampus.com by the same author.